Every HR director and many CEO's and COO's believe in winning the talent wars by improving and fixing hiring. They know that top talent is the lifeblood and key to their business, and they want to know how to hire employees and do it best.  And yet, according to research by SHRM and others, most organizations have difficulty keeping up with the changing pace of HR research and technology, and most are in fact using outdated, or invalid measures.
For example, in one off-quoted study, it was found that:
82% of responding SHRM HR practitioners believed incorrectly that Conscientiousness was a better predictor of job performance than Cognitive Ability
84% believed incorrectly that companies that screen for 'values' had higher performance than those screening for intelligence
69% believed incorrectly that integrity tests had racial bias and adverse impact
68% believed that integrity tests had little to no value because people would simply lie on them.
Yet, research has shown that all of these beliefs are 'false.'  (Source 1).
The problem is deeper, HR teams at most companies have huge challenges trying to effectively stay on top of the latest research.  That is why the typical hiring process still looks like this: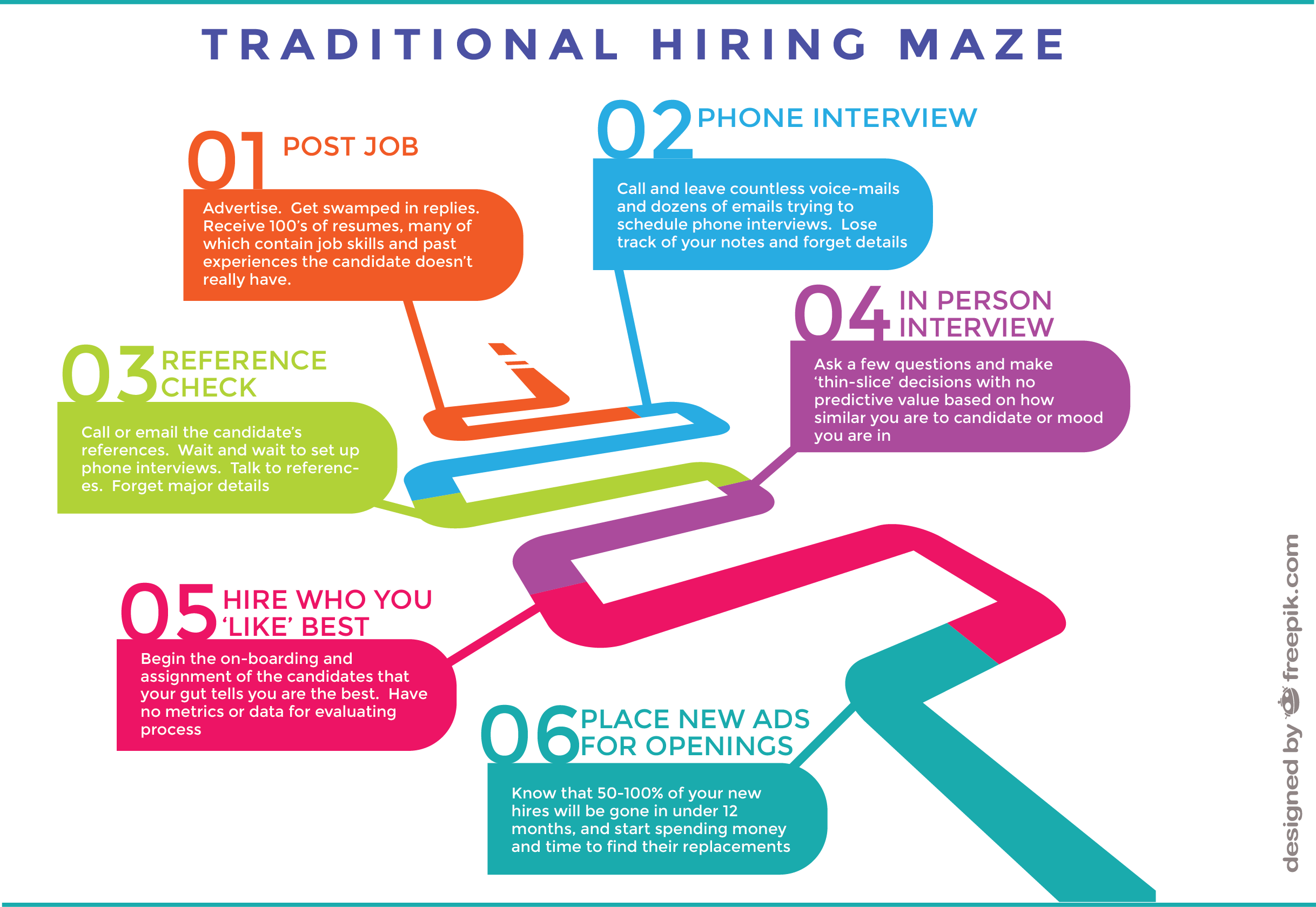 WHAT THE RESEARCH SHOWS
So, what is the most effective way to hire employees?
According to Frank L. Schimdt and other leading academics who have recently updated past work and looked at the results of over 100 years of testing and assessments, the best way to hire is by combining muti-measure methods – with Cognitive Assessment, interviews and integrity tests as the foundation.  (Source 2).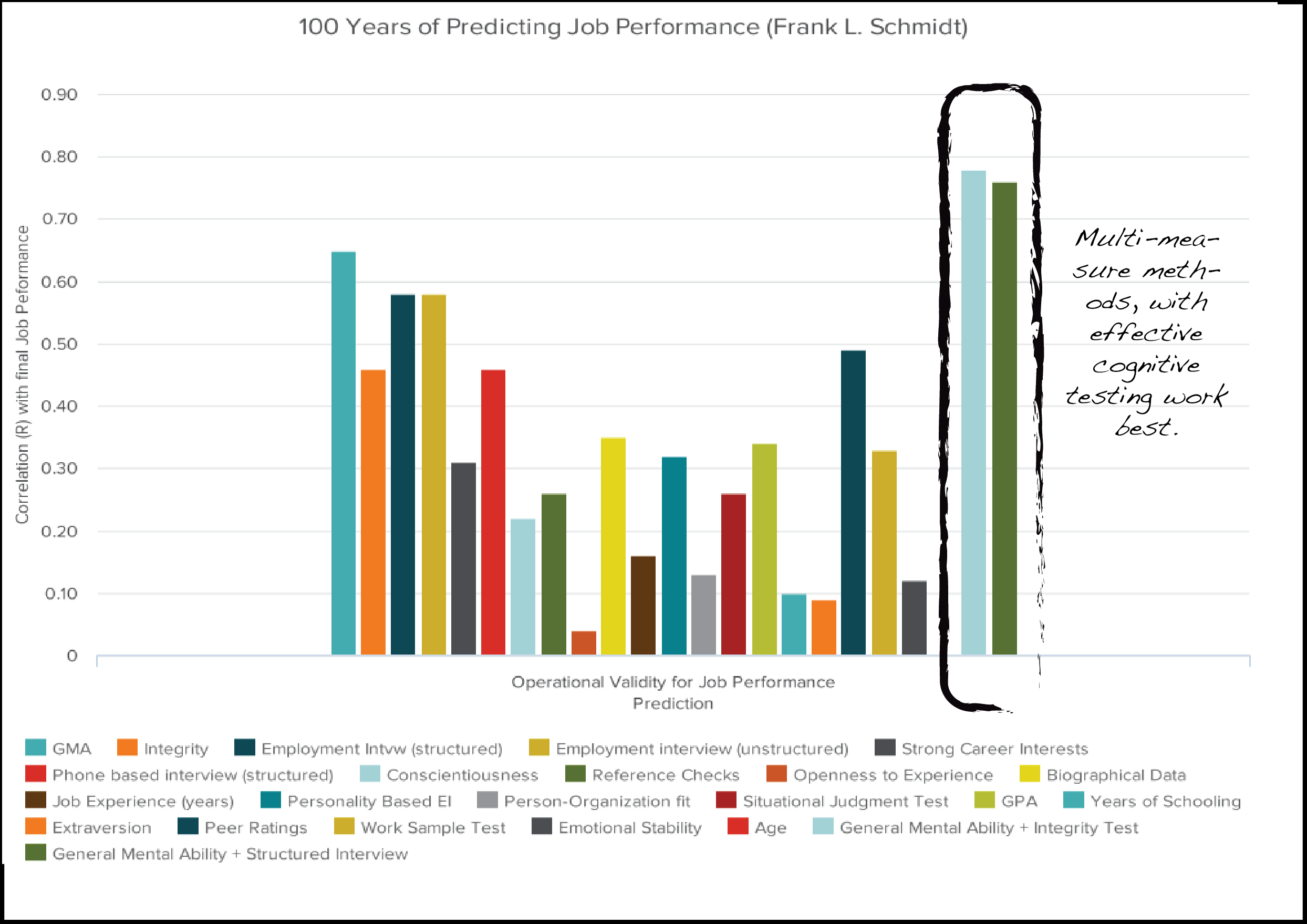 Cognitive testing is the most robust, 'gold standard' of hiring – by far.   While it is most effective for jobs that require more cognitive complexity, it is still a significant predictor for more manual or hourly worker type positions.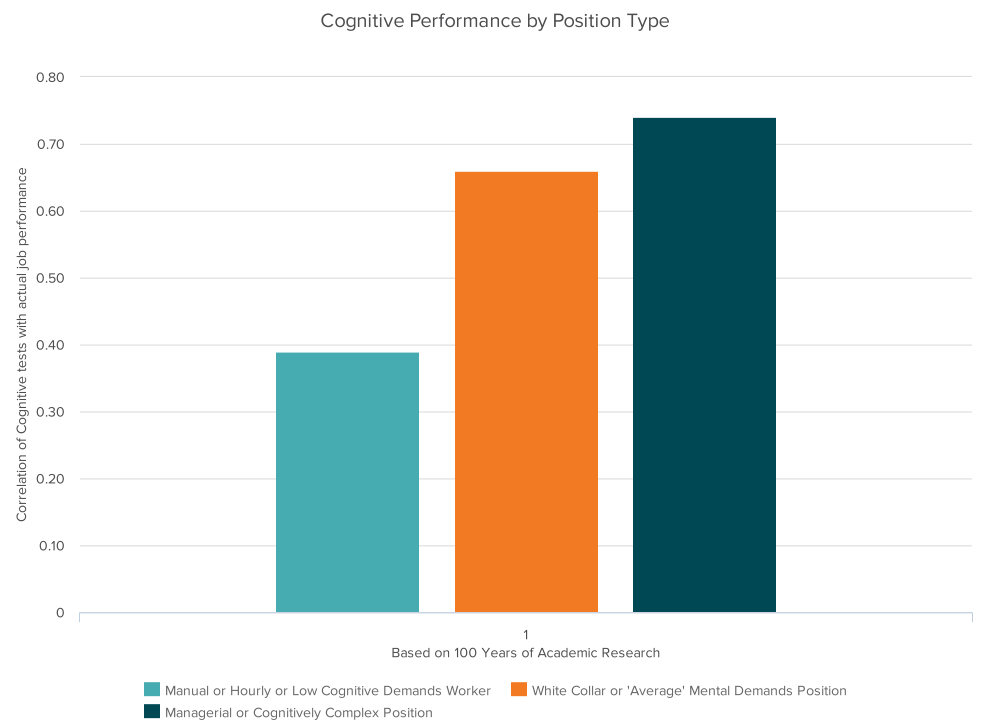 Yet, according to a 2014 article in the Harvard Business Review and the work of the Aberdeen Consulting Group, only 14% of all companies currently have any data that links their assessments to actual company outcomes.  Compounding this problem is the fact that a large majority of companies are now relying solely, or almost solely on personality tests.  (Source 3).
Why does it even matter?  There are a few simple reasons:
 The stand alone 'generic' personality tests now being most widely used are not likely to be very predictive, if at all, in producing real business results.  This means that most companies are incurring large, but avoidable costs, and losing huge amounts of earnings in lost productivity by hiring the wrong people.
The 'generic' tests being used have not been shown to work for a given company, in a given role, and may open companies up to litigation risks.  For example, Target agreed to pay $2.8 Million to settle a lawsuit in 2015 over allegations that its assessments were discriminatory against certain demographic groups  (Source: "http://fortune.com/2015/08/24/target-discriminatory-hiring/").
The people being hired are having poor work experiences, poor job-person fit and less than ideal careers – meaning that they will likely speak ill of your brand or company as a result.
Why does this happen?
A big part of the reason is that a smaller percentage of assessment providers offer truly multi-measure tests.  Most focus on one dimension – personality tests or reference checks or automated interviewing or cognitive testing, and nearly all claim that their method is best.
But, that's not what the either the research or common sense shows.
The best way to build high-quality hiring models is to take into account multiple forms of candidate evaluation.
The best way is to combine more 'impersonal, but repeatable' methods with your company's own actual historical data AND the expertise of your people in charge of hiring – and to make sure that the results are job, company and if necessary location specific – so that any models that result are linked to real workplace outcomes, and fair.
HOW TO HIRE EMPLOYEES:  5 STEPS TO BETTER HIRING
 Appoint a full-time skilled team to evaluate the process, and do a detailed quantitative and qualitative study of your hiring and onboarding process complete with analytics on turnover and productivity and culture fit.
Do thorough job analysis, collecting data on the key traits of 'best' and 'worst' performers.
Design specific custom models and assemble multi-method, validated assessments unique to your company, culture and the position you are hiring for.
Design the ideal stages in the hiring and onboarding process for administering these broad-spectrum assessments.
Collect outcome data and continually refine and approve the above steps at annual or semi-annual 'hiring check-ups'.
Talytica is dedicated to leading a 'talent analytics' revolution – making it much easier and more practical to use custom talent analytics at scale.
We don't just do hiring, we also help companies figure out who to promote or transfer internally based on fit.
Contact us to learn more.
---
SOURCES:
 A 2002 study of over 1,000 SHRM professionals:  "HR PROFESSIONALS' BELIEFS ABOUT EFFECTIVE HUMAN RESOURCE PRACTICES: CORRESPONDENCE BETWEEN RESEARCH AND PRACTICE."  By Sara L. Rynes, Amy E. Colbert, and Kenneth G. Brown).

A meta-study on over 100 years of research:  "The Validity and Utility of Selection Methods in Personnel Psychology: Practical and Theoretical Implications of 100 Years of Research Findings."  By Frank L. Schmidt, In-Sue Oh, and Jonathan A. Shaffer.

"The Problem with using Personality tests for Hiring", by Whitney Martin.