Many companies and hiring managers say they do or believe in the value of a thorough reference check, but they still tend to put them at the end of the process.  Let's face it, reference checks are all too often only a rubber stamp on who we already want to hire.
So, how can we do them right?
BEGIN WITH A JOB ANALYSIS
To conduct a thorough reference check, it helps to begin with a detailed job analysis.  You want to understand the critical skills and traits that mark both your best and worst performers in the current position.  You want to know both what you want in an ideal applicant and what you definitely don't want.
For example, if this is a sales position in a busy retail environment, you may want or need someone who likes to talk to people and who can work long hours and handle stress and not get frazzled.
If you're hiring one sales associate, that may be enough. If you're hiring 300 a year, you may want or need a combined quantitative and qualitative position study – to get a detailed, thorough analysis of the position demands and core 'success' and 'failure' driving features.
You then need to decide who you want to ask and how.  You can conduct a phone interview or email only.  You can ask closed or open-ended questions.  You can only reach out to the references the candidate provides, or you can seek 'backdoor' references. These are all key decisions in defining the process.
You can also put in place an organized way to 'collect outcomes', i.e. how do the candidates do after you hire them.  This will allow quantitative study and modeling on the most predictive reference check questions – and continual process improvement opportunities.
WHY REFERENCE CHECK
As a simple reminder of why we need to reference check, people lie on their resumes.  They embellish skills and abilities, and sometimes invent positions and companies they've worked for.  Relying on the assertions of the candidate is not enough.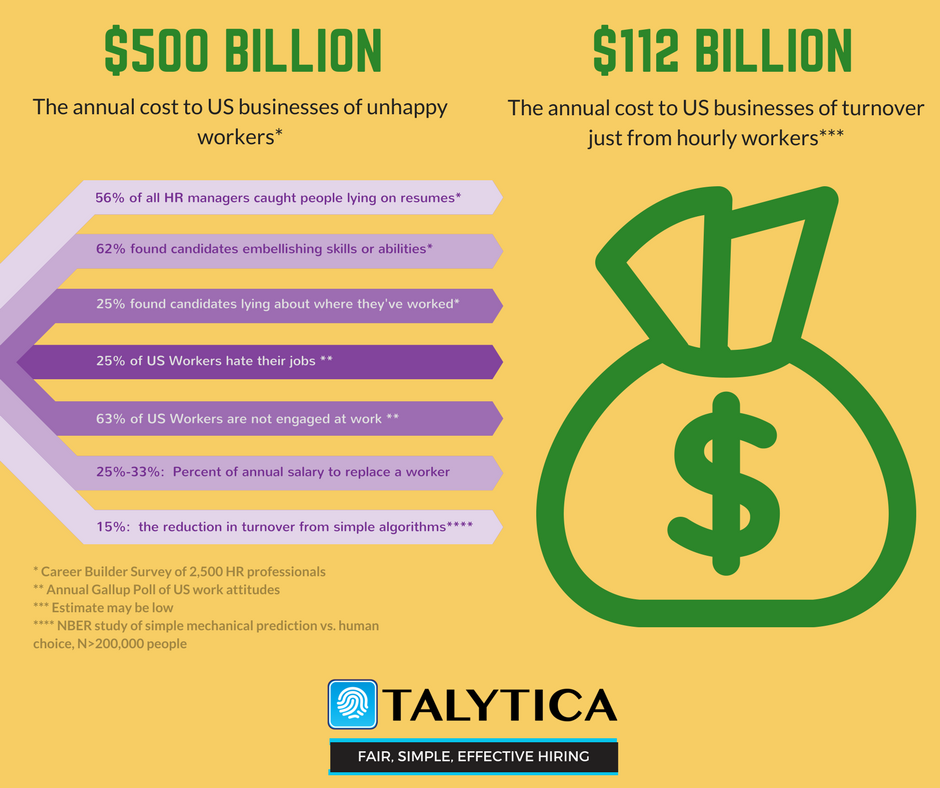 TOP 30 REFERENCE CHECK QUESTIONS
Reference check questions can organized by category:
 CONFIRM PAST EXPERIENCES

Did this person work for you from X period to Y period?
Did this person hold X position while working with you?
What was this person's final salary and responsibilities?
How long did you work with this person, and in what capacity?

CHECK ON PERSONALITY TRAITS

Was this person reliable?   Give specific examples.
Were they hard-working?  Give specific examples.
Were they agreeable and easy to get along with?  Give specific examples.
What was the biggest mistake they made that you personally witnessed?  Give specific examples.
Was this person calm and even-tempered, or were they emotionally unstable and/or volatile?  Give specific examples.

CHECK ON CULTURE FIT

Were they a good-to-great teammate?  Give specific examples.
Did people want to work with them?  Give specific examples.
Were they a good culture fit?  Give specific examples.
Can you recall a time when they went well above the duties of the job and gave more than was asked?
How would you rate this person's ability to get along with others on a scale of 1-10 – with 1 being the bottom 10% of all people you've worked with or managed in this position – and 10 being the top 10% of everyone you've worked with.

CHECK ON OVERALL PERFORMANCE

How would rate this person overall – on a scale of 1-10, with 1 being the bottom 10% of all people you've worked with or managed in this position – and 10 being the top 10% of everyone you've worked with.
How would you rate their ability to learn new material and adapt?

PROBE AROUND CRITICAL JOB SKILLS NEEDED IN THE NEW POSITION

 This new job will require a candidate who is very skilled at Z.  Did you ever see this person demonstrate mastery in this area?  Can you give a specific example?
People in this job who are Y will tend to do badly. Did you ever see this candidate demonstrate these traits? Can you give a specific example?

CHECK ON HOW THEY LEFT THE ORGANIZATION

What were the conditions surrounding their departure from your company?  Why did they leave?  100% their choice, 100% our choice, mutual decision, company closed, other.
Would you hire them again?
Did they give you proper notice and handle their departure with professionalism and class or burn bridges on the way out?

GAUGE THE PERSON'S OVERALL FEELINGS

Is there anything else I should know, positively or negatively about this candidate?  Anything at all?
Can you suggest anyone else I might speak with to get a more complete sense of their strengths and weaknesses?
From this list, you only usually want to select your top 5-15 questions.
CONSULT YOUR REFERENCE CHECKING 'CHEAT SHEET'
A thorough process doesn't have to be difficult or time consuming.  Just follow the simple 'cheat sheet' below and you will have a solid framework for conducting really good reference checks.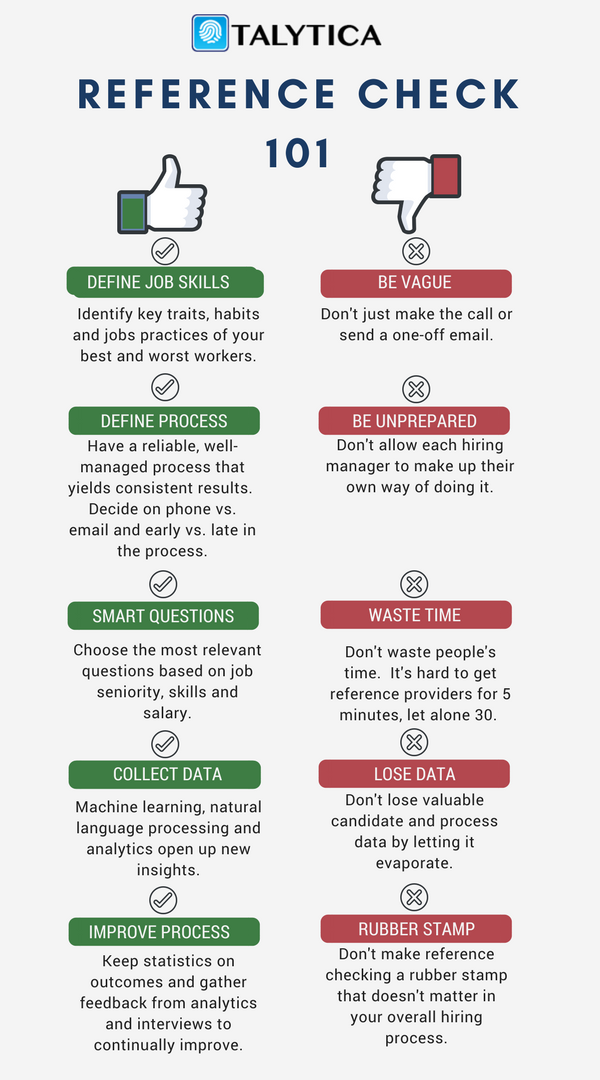 After reaching the reference – first introduce yourself and the position you are hiring for, thank them for their time, then begin asking the reference your set of pre-defined questions that relate to the key job skills. If you are conducting this test by phone, keep at least some of the questions open-ended.
In general, the higher the pay scale and the more responsibility in the role, the more thorough you want to be in checking references.
CONSIDER AUTOMATING THE PROCESS
There are a number of reasons to automate the reference check process.  It can save significant time, get you responses much more quickly, and open up new forms of data analytics and process improvement that are impossible or very, very difficult at the least for less automated methods.  It also allows for easy comparison of a reference check's responses and those of the candidate over multiple other evaluation methods and procedures.  These advantages make automation very attractive for a wide-range of job types – but particularly in hourly, lower skill and sales type positions.
It's now possible to ask both structured questions and do detailed 'text analytics' on the replies you get.

REFERENCE CHECKS & AUTOMATED REFERENCE CHECKS – SUMMING IT ALL UP
So, if you do decide to try automated reference checks, we'd love to speak with you.  There are a number of key advantages, but three to really keep in mind.